Fetch! – Play, Train & Compete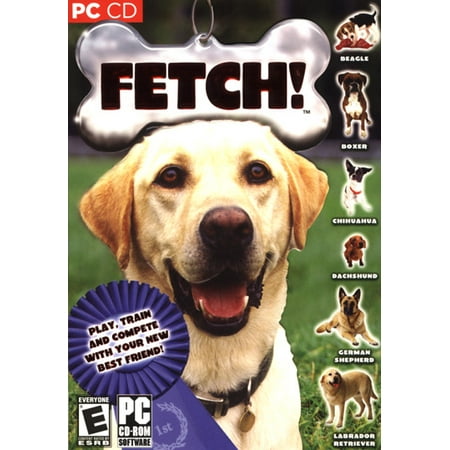 Play, train and compete with your new best friend!
Product Information
Bring home your new best friend today! Spend many happy hours pampering, grooming and playing fetch with your new dog pal. Play with your dog, take them to run and walk through the park to his agility and obedience. He needs your love and patience to grow a trained pedigree dog that can compete in national competitions. Do you and your dog have what it takes to be the name of the Best in the Show?
Product Highlights
Rough-house with your dog, play fetch, and teach them to obey commands.
Feed and care for the newest member of your family.
Put all of your hard work and training to the test in obedience and agility competitions. How will your dog rank?
Dress your dog in funny clothes, hats and collars. Even buy accessories and toys for your dog to play with throughout the game.
Product Features
Choose from favorite dogs including Labradors, German Shepherds, Boxers, Chihuahuas, Dachshunds, and Beagles to bring home today. Give your new friend a name and get him ready to play!
Sit, Stay, Fetch!
Teach your new dog how to sit, stay, fetch and much more! Use the Gesture Recognition feature to get your dog to obey with a simple movement of your mouse. Then reward your puppy with toys, treats and lots of love.
Best in Show
Compete in local dog shows to demonstrate your pet's pedigree and training. Progress through the ranks to make it to the national obedience and agility competitions and be named the Best in the Show.
Dog Days of Summer
Have many fun with your pooch in the kitchen and the yard, on the streets and in the park as the seasons bring sun, leaves and snow.
Teach Your Old Dog New Tricks!
Use the Gesture Recognition system to get your dog to obey your commands by simply moving your mouse!
Price: 4.99 USD